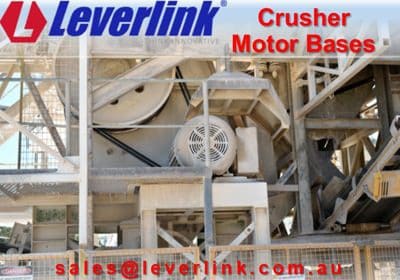 Selecting the Right Motor Base
CRUSHERS:  SELECTING THE RIGHT LEVERLINK MOTORBASE 
 Written by Richard Sharp, Managing Director- Leverlink
Different types of rock crushers in quarrying, mining and associated industries present different types of problems when designing the drive system. For example, a slow turning jaw crusher has a drive/driven pulley ratio unlike that of a cone or gyratory crusher or perhaps a impactor, which may operate at higher speeds. The type of electric motor and number of poles also come into play as do the number, type and section of drive belt being used.
Maintenance and Down Time
Generally the highest cost in the maintenance of a drive system is labour. Followed by the drive belts and, most frightening of all, the replacement of the drive and or the driven pulley. We will not go into the cost of plant down time, which in some cases can ruin the most optimistic managers day.
The Maintenance Team Dream
Assuming all is well and the drive and driven pulleys are faced and shafts parallel. The correct drive belts have been selected according to the application and the power required to be transmitted. The drive is shielded from entry of damaging foreign matter. All we have to concern ourselves with is maintaining the correct drive belt tension according to the drive belt manufacturer's specifications. In a perfect world this will provide maximum belt and pulley life. Naturally all costs are minimised.
 Maintaining the Correct Drive Belt Tension
Human nature and an inherent distain as to the vital importance of the drive system compared with apparently more romantic and rewarding things to do on site trivializes the real cost savings to be made. The simple fact is that if the job is difficult to do, it will be deferred or not done well or perhaps not done at all.
Selecting the Best Motor Base for Your Rock Crusher Drive
So you selected slide rails for your crusher drive!  They may be the cheapest but certainly not the best. Enjoy your hidden maintenance costs.
Let's try again. The following wish list will assist in your selection:
 Simple and quick to adjust
 Pulleys remain faced and shafts parallel
 Easy to check drive belt tension
 Extends the service life of the drive belts and pulleys dramatically
 Solution
If you have ticked all the boxes perhaps you should give us a call?
https://leverlink.com.au/wp-content/uploads/LEVERLINK-Crusher-motor-bases..jpg
280
400
https://leverlink.com.au/wp-content/uploads/Leverlink_newlogo.png
2018-01-23 10:29:33
2020-04-20 08:06:36
Selecting the Right Motor Base