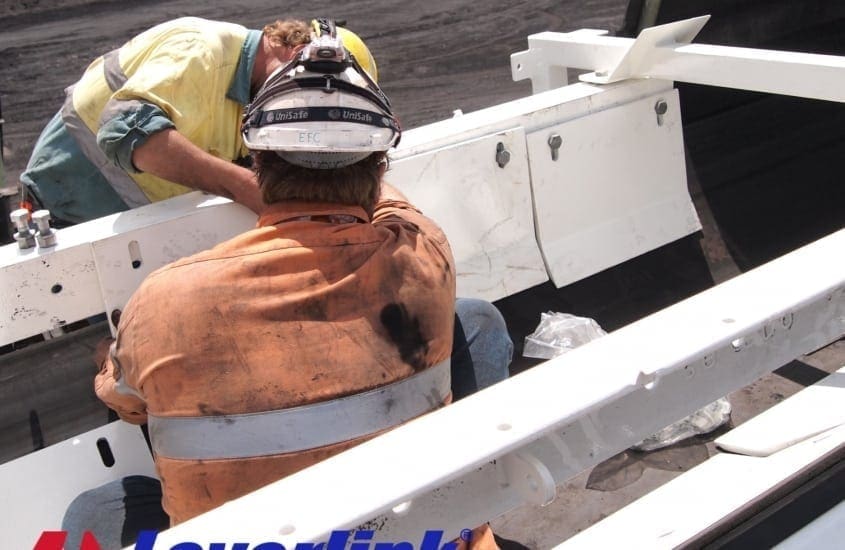 Best Conveyor Wear Plates in 2022
At Leverlink, we supply top quality conveyor wear plates for a variety of applications. However, you'd be forgiven if the exact difference between nylon wear plates and steel wear plates escapes you.
If you're not quite sure what the different types of plates are and what they're best used for, this article is just for you. As the leading provider of wear plates, our team knows a thing or two about all things wear plates.
So, let's start at the beginning. 
What are wear plates?
All wear plates, whether they are made from ceramic or stone, are designed and manufactured to act as abrasion resistant liners. By protecting exposed surfaces from intense abrasion or impact against other surfaces, these plates are used in a number of sectors including mining, industrial manufacturing and earthmoving.
History of wear plates
Wear plates have been used in various applications for hundreds of years. Developed around the 1760s, the plates were designed even as early as then to increase efficiency and reduce the need to replace machines that cost a lot of money. Instead of replacing the expensive parts, wear plates were used and replaced as needed. 
As industry developed over the 18th and 19th century, wear plates began to be used more widely. However, in those days most plates were of a standard size. Today, as our levels of manufacturing and industrial sophistication have drastically improved, we've developed a range of different types for particular applications. 
Types of wear plates
Wear plates can be made from a variety of materials, including:
Steel

Ceramic

Nylon

Stone

Plastic

Concrete

Enamel
Each material offers different advantages and disadvantages. Depending on the particular application, you may need to consider one type of wear plate over another. Regardless, your wear plate needs to be highly resistant, shock absorbing and hardy even under extreme conditions and sustained, heavy use. 
Use of wear plates
Any equipment that is exposed to harmful wear and tear can use wear plates to protect it from damage.
Benefits of using plates include:
Reducing the amount of downtime from damaged machinery.

Reducing the cost of purchasing replacement parts in the event of a breakdown.

Reducing the cost of ongoing maintenance. 

Reducing interruptions to ongoing production and output. 
General earthmoving industry
Large scale machinery in general often requires wear plates. Equipment such as bulldozers, excavators, front end loader buckets and more, can be modified with a hard-wearing plate. 
Construction and mining
The construction and mining industries work a lot with brick and cement, so everything from chute lines to truck trays need to be reinforced with wear plates to ensure ongoing protection. 
Energy and power
Power plants in particular use wear plates for their conveyors, as well as coal buckets and chute liners.
Steel mills
There's a lot of intense element exposure in a steel mill, and wear plates can be critical for ensuring ongoing production. 
Quarries
Quarrying companies often use screen plates or crusher liner plates during their everyday operation.
Other
While it's hard to list every single possible industry that makes use of wear plates, there's certainly a wide variety of applications. 
If your particular area of operation hasn't been listed, don't worry! Just reach out to our innovative team here and we'll walk you through the potential, relevant applications for you. 
The Best Wear Plates in 2022
Conveyor wear plates
Conveyor wear plates come in a range of grades and plate thicknesses. Of course, this will depend on the application and the team here at Leverlink will work with you to find the right specifications for your needs.
There are many benefits to using conveyor wear plates, including long service life, so your return on investment is high. Moreover, the adjustable nature of the plates and variety of options means there's a solution for everyone. 
Duplex wear plates
Duplex wear plates are one of the best products for protecting valuable machinery and assets. As with the other best wear plates, this type will ensure reduced operational downtime, breakdowns and repairs/replacement parts needed. 
Even in the subcategory of duplex plates, there can be further specification. For example, if you're looking at mitigating the damage caused by abrasion or impact, you may need to choose chromium tungsten carbide, chromium carbide or another option. 
Cutting edges wear plates
Using a state-of-the art technique during production with a submerged arc welding, cutting edge wear plates come in two main types, both of chromium carbide. The aim of these plates is to reduce friction and thus blockages in equipment. Often used in bins, chutes, buckets and similarly shaped machinery, cutting edge plates are available in a variety of sizes. 
Contact us for more assistance
If you would like to find out more about the different types of wear plates for mining available, why you might want to consider plastic wear plates or just have a specific question about your application, make sure to contact our team directly. Or visit our conveyor wear plates manufacturers page. 
https://leverlink.com.au/wp-content/uploads/WSU.-04.-LEVERLINK-conveyor-wear-plates..jpg
1407
1875
GO Creative Support
https://leverlink.com.au/wp-content/uploads/Leverlink_newlogo.png
GO Creative Support
2022-09-08 06:00:36
2022-08-19 16:46:06
Best Conveyor Wear Plates in 2022